Advancing Workforce Equity with LMI Data
The face of the nation is changing—and with it, the demographics of the workforce. In about 25 years, the United States will no longer have a single majority racial/ethnic group. White people comprise 62 percent of the U.S. workforce overall, but 75 percent of those ages 55 or older. As baby boomers retire, they are being replaced by a much more diverse generation of workers. As people of color become much of the U.S. workforce, racial inequities in the labor market represent a rising liability for the economy. For instance, racial gaps in the share of workers earning at least $15/hour have been persistent over the past several decades.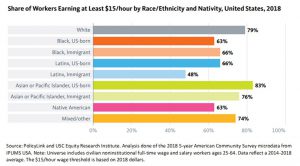 State LMI shops and workforce researchers have an important role to play in advancing equity, with some already being asked to answer questions on the topic with data, suggest appropriate performance indicators, or to develop dashboards to track progress over time.
Besides BLS data, the American Community Survey provides important insights into this topic. The National Equity Atlas is one source using ACS-based indicators to track how communities are doing on key measures of inclusive prosperity. The indicators track change over time, are comparable across geographies, and are disaggregated by race and other demographics as much as possible. PolicyLink and the USC Equity Research Institute built the Atlas with support from the Ford Foundation, Marguerite Casey Foundation, Robert Wood Johnson Foundation, Surdna Foundation, JPMorgan Chase Foundation, and W. K. Kellogg Foundation. To view the data, National Equity Atlas
The LMI Institute wants to support efforts, and to feature the work of our members, on Advancing Workforce Equity with LMI Data. If you have reports or resources you would like to share with the member network, please contact Marty Romitti at the LMI Institute, mromitti@crec.net